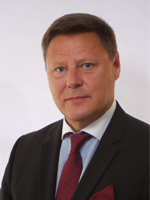 KAI PAANANEN
Founder and CEO SET GROUP
Chairman of the Management Board SETCleanTech

Born July 21, 1954 in Finland. Kai Paananen, a Finnish businessman and an active participant of international trade and economic activities. Pioneer in the creation of the first joint Russian-Finnish enterprises. He has over 30 years of experience in trade and investment in infrastructure, oil refining, shipbuilding and timber industries, as well as in the field of new technologies and ecology.
The history of the company SET GROUP originates in 1978, when the trading house KARELIA TRADE was founded, which was the main importer of wood-processing technologies in Russia, and also exporter of wood and sawn timber to Finland.
Since the late 80's, the company has become an active participant in the oil business, working with the major Russian oil producing and refining companies.
SET Group is an important player in Russian Finnish projects for cooperation in the Arctic and shipbuilding activities. Thanks to the efforts of the company and personally Mr. Paananen, it was possible to keep the Helsinki shipyard and provide it with orders from the Russian shipbuilding company OSK. One of the important shipyard projects, brokered by SET Group, is the multifunctional icebreaker «Baltika», built for the Russian Sovcomflot.
SET Group played an important role in joining the Finnish hockey club Jokerit to the KHL. Kai Paananen is a member of the board of directors of the hockey club Jokerit, as well as the Hartwall Arena.
SET Group has a wealthy experience in business aviation: management of VIP-class airplanes for private and business flights, providing a full range of management services and aircraft.
Kai Paananen is also the Chairman of the Management Board of SET CleanTech. SET CleanTech develops and delivers solutions for the recycling and processing of solid wastes into energy and the preparation of solid secondary fuel SRF (RDF). Russia and Eastern Europe are the main regions of business development.
Kai Paananen is a member of the board of of the Finnish-Russian Chamber of Commerce and has a high level of contacts both among businessmen and politicians.