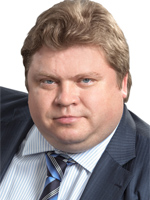 SUDARIKOV SERGEY
Partner of the REGION Group of Companies, Vice-President of the Association Conoscere Eurasia
He started his activities in the financial market in 1994.
He has been working in the REGION Group of Companies since its foundation (since 1995).
In 1997 he became the commercial director of REGION Investment Company, and since 2001 he has been heading the company as the Director General.
Sergey Sudarikov became the shareholder of the parent company of the Group – REGION Investment Company in 2001. Since 2011 he has become the key owner of the Group.
At present he is a member of the Board of Directors of the REGION Group of Companies.
He is one of the recognized Russian managers. In 2016 Sergey Sudarikov entered the top three of leaders in the category "Top Managers. Financial Sector" of TOP-1000 Russian Managers Rating recognized in Russia.