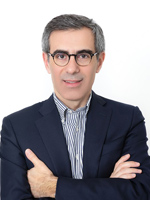 SIMONE CROLLA
Managing Director of the American Chamber of Commerce in Italy
Simone Crolla has been the Managing Director of the American Chamber of Commerce in Italy (AmCham) since April 2009. Founded in 1915, AmCham is a non-profit organization promoting economic and political relations between the United States and Italy.
Since January 2020, has been the majority stakeholder and Vice President of Synergo SGR S. p. a., an asset management company aimed at launching two new funds: the first one of Private Equity focused on Italian companies with investment projects towards the American market, the second one of Venture Capital aimed at supporting the growth of startups and innovative SMEs.
Since April 2019, has been a Board Member of Tesmec S. p. a. as Independent Advisor and Chairman of the Remuneration and Appointment Committee.
Since November 2018, has chaired the Advisory Board of the Veneranda Fabbrica del Duomo di Milano to develop a fundraising strategy and advise the Chairman Fedele Confalonieri in developing strategies for promoting the Duomo di Milano, and is also a member of the U.S. Board of Directors (501 (c) 3) of the International Patrons of the Duomo di Milano.
Since 2018, has been an advisor to Walgreens Boots Alliance's major stakeholders, Engineer Stefano Pessin and Dr. Ornella Barra, on relations with state authorities and business development.
One of the founders of the USA Pavilion at Expo 2015, where held position of Director of Italian Relationship.
A Member of Parliament from February 2012 to March 2013, a member of the Foreign Affairs Committee, where he was the Chairman of the Italiani nel Mondo Subcommittee.
October 2003 ― May 2006 ― Deputy Head of the Office of the Prime Minister of Italy.
In addition, he was selected by the US Department of State as the only Italian participant in the 2004 International Visitor Leadership Program, which was held in a number of American cities.
Degree in Political Sciences, University of Milan.