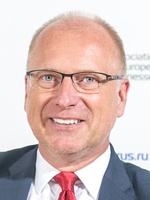 SCHAUFF FRANK
General Director of the Association of European business
Dr Frank Schauff was elected General Director of the Association of European business in June 2007 and re-elected for the fourth term in April 2016.
Since 2001 Dr Schauff had occupied the position of external policy councilor to the executive director of the Social Democratic party of Germany (SDP).
He has got his degree in economic history and political science in London School of Economy and Political Science (LSE), degree of master of state management and policy in Russia and economic history. In 2000 he received his doctoral degree in history of Eastern Europe in Cologne university and lectured on Eastern European researches in the Free University of Berlin for several years.