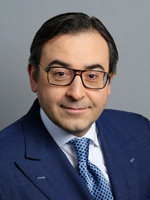 DILANYAN VARTAN
Accenture (USA), General Director in Russia
As General Director of Accenture in Russia, he is responsible both for development and realization of the company's development strategy, and for operative management of the company's activity in Russia. He is at the helm of the practice of services for the financial organizations Accenture in Russia.
Mr Dilanyan also curates Accenture's operations in Kazakhstan.
Before joining Accenture, Vartan Dilanyan had worked in the credit and financial sphere, headed a large Russian commercial bank and took part in realization of investing projects. Before that he had had leading positions in large consulting companies and financial organizations for as long as15 years.