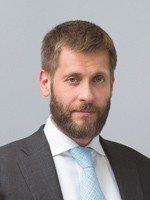 CHUBAR VLADIMIR
Chairman of the board, member of the Supervisory Council of the Moscow Credit bank
2005 – graduated from the University of Finance under the Government of the Russian Federation, qualification: economist; specialization: finance and credit.
2007 – additional education in the Banking institute of the Association of Russian banks, course: Budgeting and financial planning in a commercial bank.
Vladimir Chubar entered the Moscow Credit bank in 2004 as expert of Financial Accounts department, then successively held positions of head of the department, head of the office and director of the Department of Finance. Autumn 2008 – appointed Deputy Chairman of the board of the bank.
Since February 2012 — Chairman of the board.